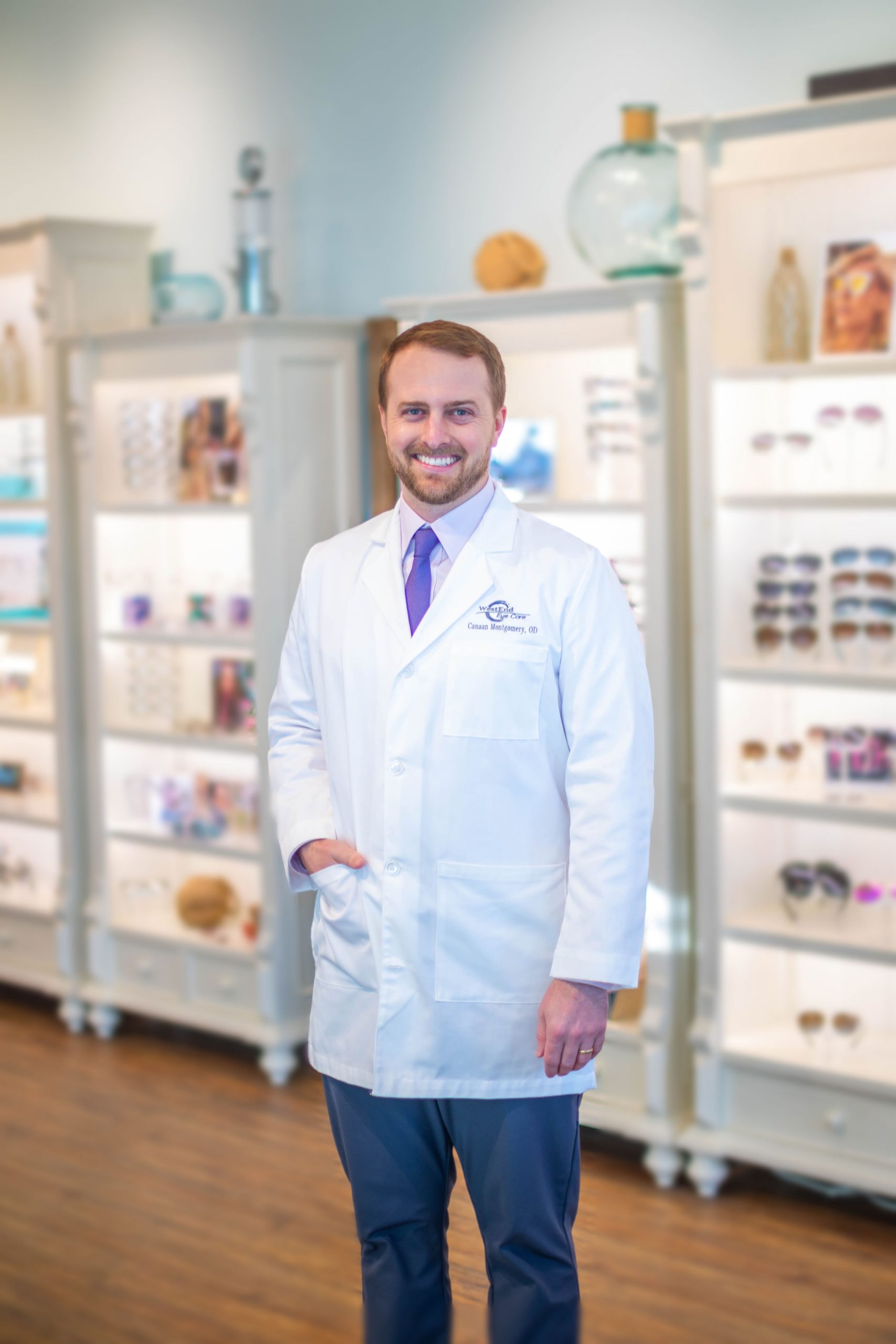 Canaan Montgomery, O.D.
Owner, Optometrist
Meet Dr. Canaan Montgomery. Being a fifth-generation Paducah native, Canaan and his family have deep roots within the community. A graduate of Heath High School, he attended Murray State University for his undergraduate education, where he majored in Biology and minored in Chemistry. After graduating with honors from Murray State, Canaan began his optometric education at Southern College of Optometry in Memphis, TN. While at SCO, Canaan was the recipient of the Kentucky Optometric Association scholarship, the Outstanding Clinician Award, and was a member of the BSK Honors Society. During his time in Memphis, he authored a case study on Torpedo Maculopathy, a rare childhood retina condition. He served his internships at The Eye Center in Memphis, TN, Oliver Eye Associates in Rock Hill, SC, and Bennett and Bloom Eye Centers in Louisville, KY. He graduated Cum Laude with his Doctor of Optometry degree.
Dr. Montgomery's training in eye care has emphasized management of ocular disease, pediatric vision and development, and specialty contact lens management. He also lectures regularly on topics ranging from business management to Ortho-K at his alma mater in Memphis as well as locally. In 2018, he was honored to receive the Practice of Excellence award from his alma mater, Southern College of Optometry, awarded to graduates who have opened and established outstanding private practices in their communities.
Canaan met his wife, Rebecca, while at Murray State. They married in 2011 and welcomed their first child, Eli, in 2018. In his free time, Canaan enjoys playing guitar, cooking, and hunting.
Education
Undergraduate: Murray State University, BS Cum Laude
Optometry School: Southern College of Optometry, Doctor of Optometry Cum Laude
Internships: The Eye Center, Oliver Eye Associates, Bennett and Bloom Eye Centers
Professional Affiliations
American Optometrist Association (AOA)
Kentucky Optometric Association (KOA)
American Academy of Orthokeratology and Myopia Control (AAOMC)
College of Optometrists in Vision Development (COVD)
Chelsey Johnson Hawks, O.D.
Optometrist
Originally from Madisonville, Dr. Hawks has practice in the Paducah area since 2016. She practices full-scope optometry and enjoys seeing patients from every age group! From glasses prescriptions, contact lens fittings, and eye health examinations she helps find a custom solution that addresses each of her patients' needs.
Dr. Hawks also specializes in dry eye and other ocular surface disease. Using the latest technology, like Lipiflow Thermal Pulsation System, she can effectively treat moderate-severe dry eye in office, reducing your dependency on daily eye drops. Dr. Hawks also specializes in specialty contact lenses called scleral contact lenses.
Dr. Hawks is married to her husband, Corbin, who is a local dentist.
Education
Undergraduate: University of Kentucky
Optometry School: University of Alabama Birmingham
Professional Affiliations
American Optometrist Association (AOA)
Kentucky Optometric Association (KOA)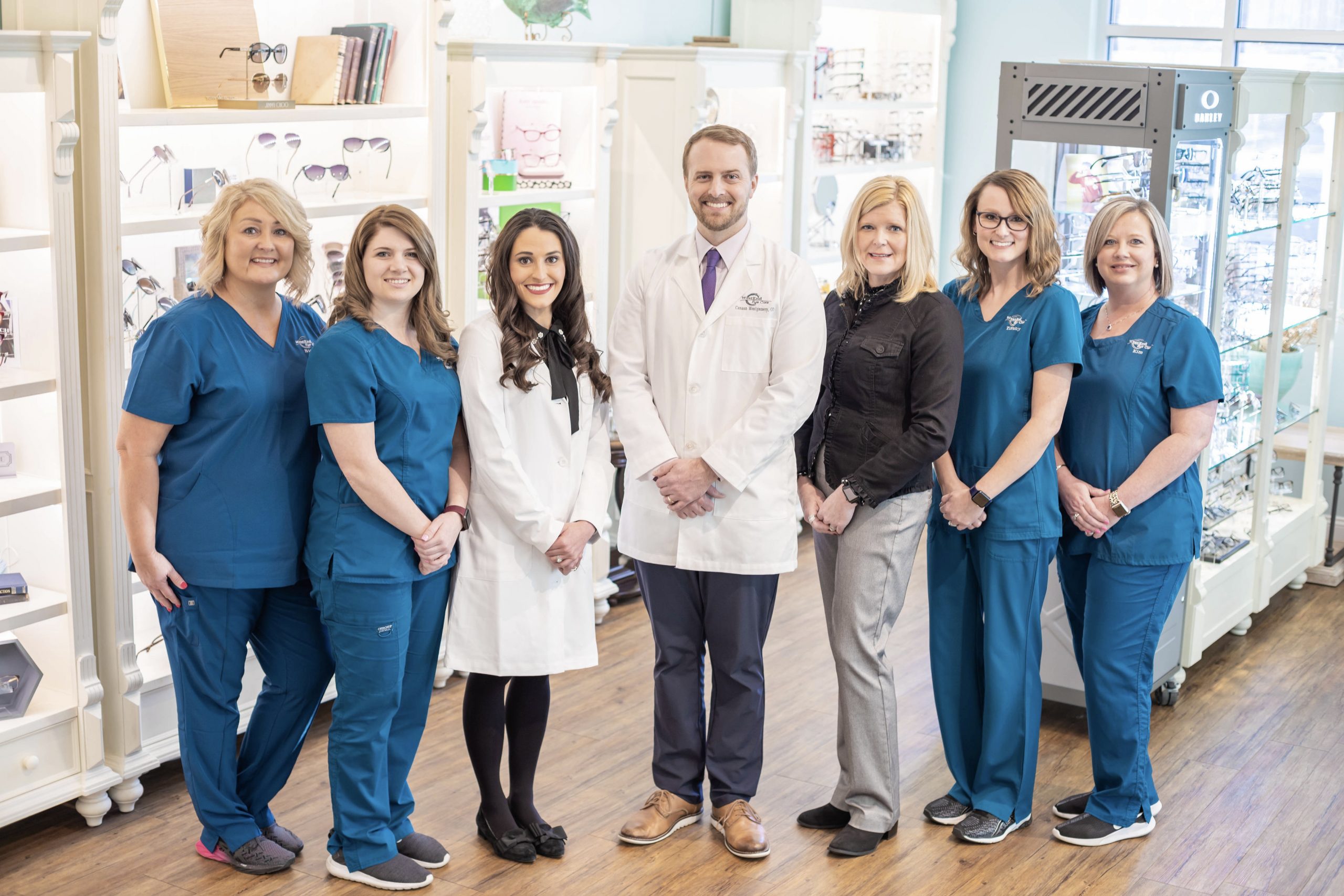 Tiffany Reynolds, CPO- Optometric Technician

As a doctor's assistant, you will most likely be spending a few minutes with Tiffany before you see Dr. Montgomery. Tiffany is a Certified Paraoptometric (CPO) and specializes in taking detailed images and scans of your eye, performing visual field testing, and ensuring your chart is up-to-date and accurate. She also coordinates our Ortho-K program, ensuring that every patient receives the best care possible. Tiffany's caring and compassionate personality is what we value the most, as it helps us deliver exceptional eye care to our patients! If you ever have questions about your vision or your exam, Tiffany will spend time with you to help answer your questions.
Originally from Eddyville, Tiffany now lives in Paducah with her husband, Deke and two sons. In her free time she likes to spend time with family, read, and cheer on UK basketball.
Kim Leidecker, CPO- Front Desk Coordinator
As our Front Desk Coordinator, Kim is usually the first smiling face you'll see when you walk through our doors. Kim will assist you with scheduling your appointments, verifying your insurance coverage, and picking the perfect pair of glasses! Kim's outgoing and laid back personality makes her the perfect person to assist our new patients. She also has a great sense of humor that keeps us laughing all day!
Kim lives in Graves County with her husband, Steve and puppy, Mocha. In her free time she loves spending time with family and friends, watching Netflix, traveling and shopping. She has one son and two step-daughters. She may not look old enough, but she also has 7 precious little ones who call her "Grammy".
Nisha Burkhart, NCLE, ABO- Optician

With over 25 years experience as a Kentucky State Licensed Optician, Nisha is here to assist you with any unique optical needs you may have. Nisha prides herself on helping you select the perfect frame that matches your personal style. She also is an expert in lens designs and coatings, helping you to maximize how clearly you can see through your new prescription. Her friendly demeanor and commitment to helping you look and see your best make her the perfect person to help you with your eyewear selection!
Nisha was born and raised in Southern Illinois and now resides in Kentucky with her husband and son. In her free time, she enjoys being outdoors and loves nature.
Shelby Copeland- Optometric Technician
As an optometric technician, Shelby will be assisting you at the start of your appointment. With over 4 years of experience, Shelby is dedicated to providing quality eye care. We truly value the way Shelby focuses on making your patient experience a personal one! Shelby provides excellent care by taking patient histories, capturing detailed images of the eye, and educating patients on their eye conditions. Most of all, she enjoys helping first time contact wearers feel confident in inserting and removing their lenses. Shelby is here to make sure all your questions and concerns are answered!
Shelby lives in Murray with her little girl, Ava. For fun, Shelby enjoys spending time with her daughter, kayaking, and hiking.
Allyson Riley- Office Manager

As our office manager, Allyson is responsible for ensuring that you have an incredible experience each time you visit our office. She helps us improve and modify how we do things and always offers a fresh perspective on what changes we can make to serve our patients better. Although she often works behind the scenes, you may find her at checkout and assisting patients at the front desk. Allyson's friendly personality, leadership skills, and commitment to the patient experience make her the perfect fit as our office manager!
Allyson lives in Graves County with her husband, David. In her free time, she enjoys spending time with their three children and being outdoors as much as possible.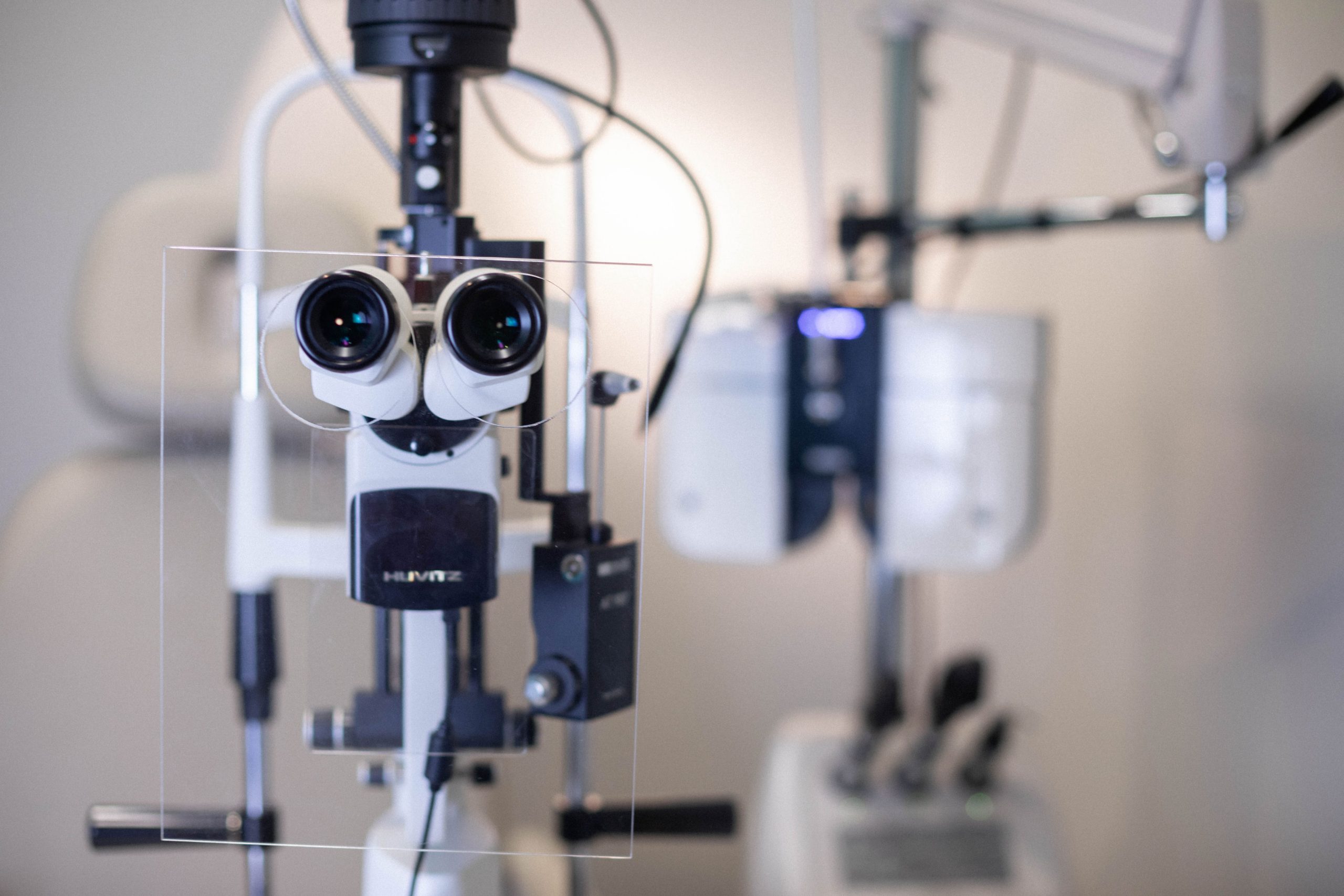 At West End Eye Care, we widely embrace new technology. Advances in technology have entirely changed that way that we practice medicine, just as the internet has changed the way we connect to our world. But our investment into technology is not just progress for the sake of progress. This technology helps us to detect disease and disorders earlier, provide better treatment options, and increase your access to integrated healthcare through Electronic Medical Records. Most importantly, it ensures that you will receive the best eye care available!.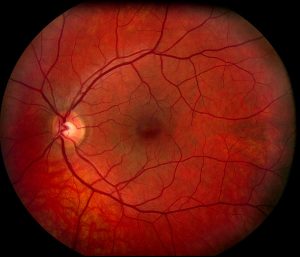 Fundus Photography
Our retinal camera can take high-definition images of the inside of your eye. This allows us to document eye diseases such as glaucoma, macular degeneration, and diabetic retinopathy and monitor for changes over time!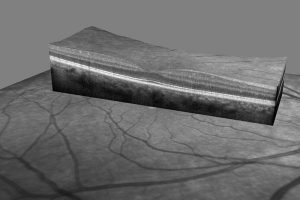 Optical Coherence Tomography (OCT)
OCT imaging has revolutionized the entire field of medical eye care. Similar to an MRI, this instrument takes detailed images of your cornea, retina, and optic nerve and creates a 3-D model that the doctor can manipulate. This not only gives us a better idea of the extent of an eye disease, but also gives us tools to measure the size, shape, and thickness of these structures which helps us to monitor very subtle changes in eye disease.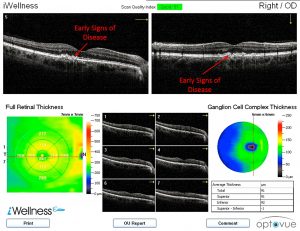 iWellness
The iWellness scan is a brand new technology that utilizes the OCT instrument to scan and measure a specific layer of the retina called the Ganglion Cell Complex (GCC). Thinning of the GCC is the first sign of glaucoma and can occur years before other clinical signs. We offer this screening scan to all patients during their yearly exam to detect early signs of these blinding eye diseases.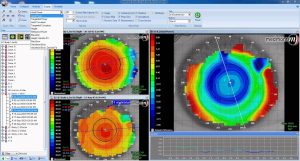 Corneal Topography
Our Medmont E300 Corneal Topographer is the most powerful machine on the market for fitting custom-designed contact lenses. By measuring over 10,000 data points on the surface of your eye, it recreates a detailed, 3-D image of the surface of your eye so that custom-made contact lenses can be designed for each patient. This technology allows us to fit precisely designed lenses like Ortho-K retainer molds, scleral lenses, and Rigid Gas Permeable lenses. This technology allows us to put virtually anyone in contact lenses, including those with corneal diseases like keratoconus and post-surgical patients!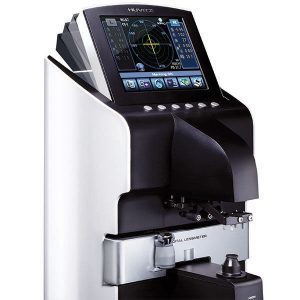 Autolensometry
Our digital lensometer takes accurate measurements of your glasses to determine the type and power of your existing glasses. This helps us to compare your new glasses prescriptions with your older glasses and make adjustments as needed.
The lensometer sends your prescription to our exam room, so Dr. Montgomery can show you the difference between your old glasses and your new glasses prescription!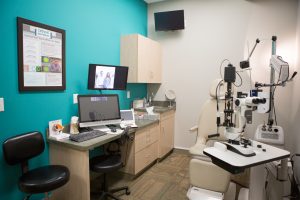 Fully Automated Exam Room
Our entire office is designed to create a seamless experience from start to finish, and that includes our exam room. Our phoropter (the 'better 1 or 2 machine') sets itself to your current glasses prescription automatically and receives data from our other instruments to help Dr. Montgomery ensure that your prescription is perfect. Our distance and near eye charts are fully digital, giving us excellent contrast and simulating real-world computer and smart phone use. Our Slitlamp microscope streams a live-video feed to a monitor in the room so that patients can see exactly what Dr. Montgomery sees inside their eyes!
From start to finish, our technology provides our patients with the best eye care available!