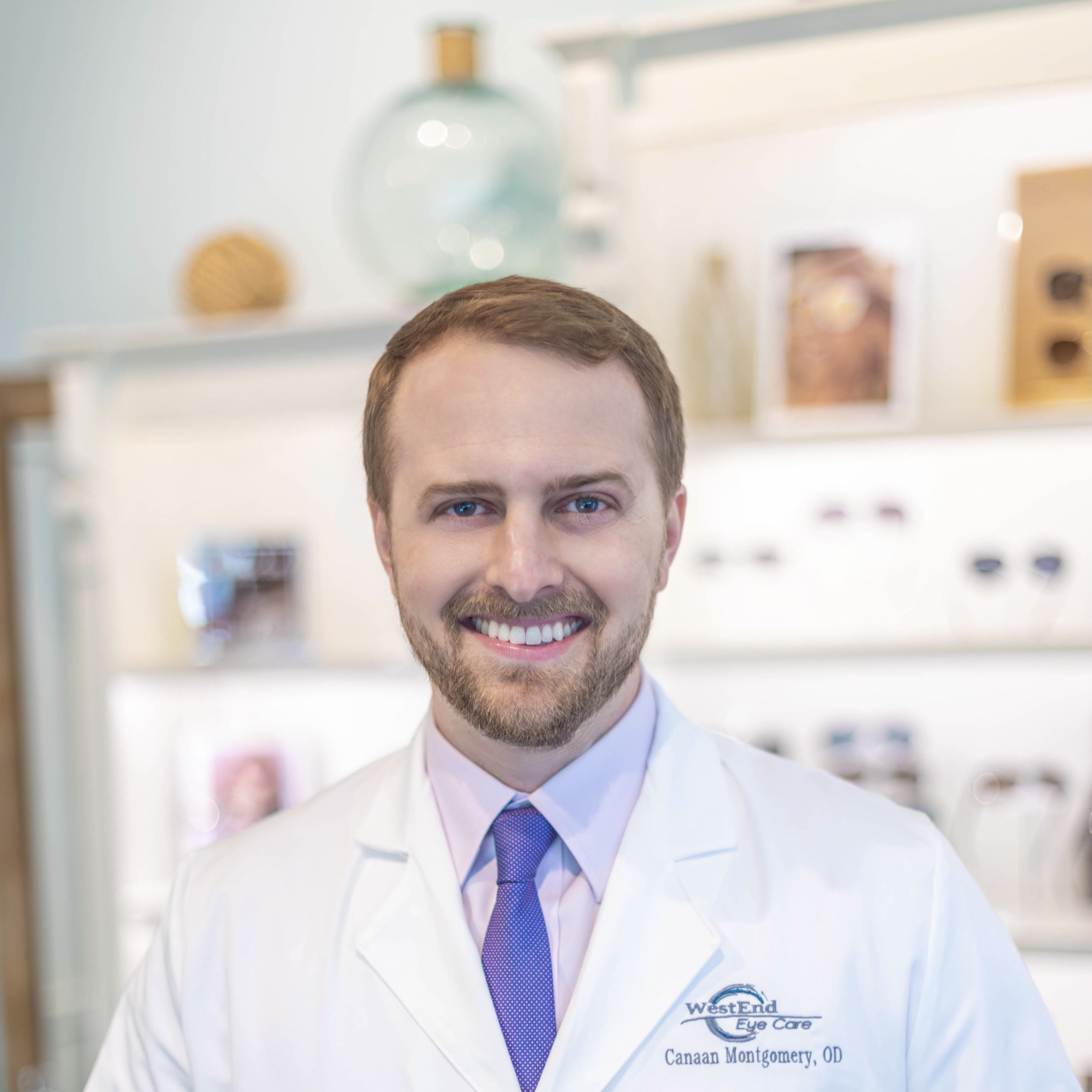 Dr. Canaan Montgomery
Owner, Optometrist
Dr. Canaan Montgomery is originally from Paducah, having graduated in 2006 from Heath High School. He graduated with honors from Murray State University with a Bachelor's degree in Biology in 2010 and attended Southern College of Optometry in Memphis, TN for his doctorate.
While at SCO, he was inducted as a member of the BSK Honors Society, received the Outstanding Clinician Award, and authored case studies on retinal disorders. He graduated Cum Laude with his Doctor of Optometry degree in 2014.
Dr. Montgomery's training in eye care has emphasized management of ocular disease, pediatric vision and development, and specialty contact lens management. He also lectures often on topics ranging from practice management to myopia control at his alma mater as well as locally.
In 2018 West End Eye Care was awarded the Practice of Excellence of award from Southern College of Optometry, which honors graduates who have opened and established outstanding private practices in their communities.
Dr. Montgomery met his wife, Rebecca, at Murray State and they married in 2011. They have two boys, Eli and Reid. When he's not at work, he enjoys guitar, cooking, hunting, and cheering on his Kentucky Wildcats!
Specialties
–Ortho-K and Myopia Management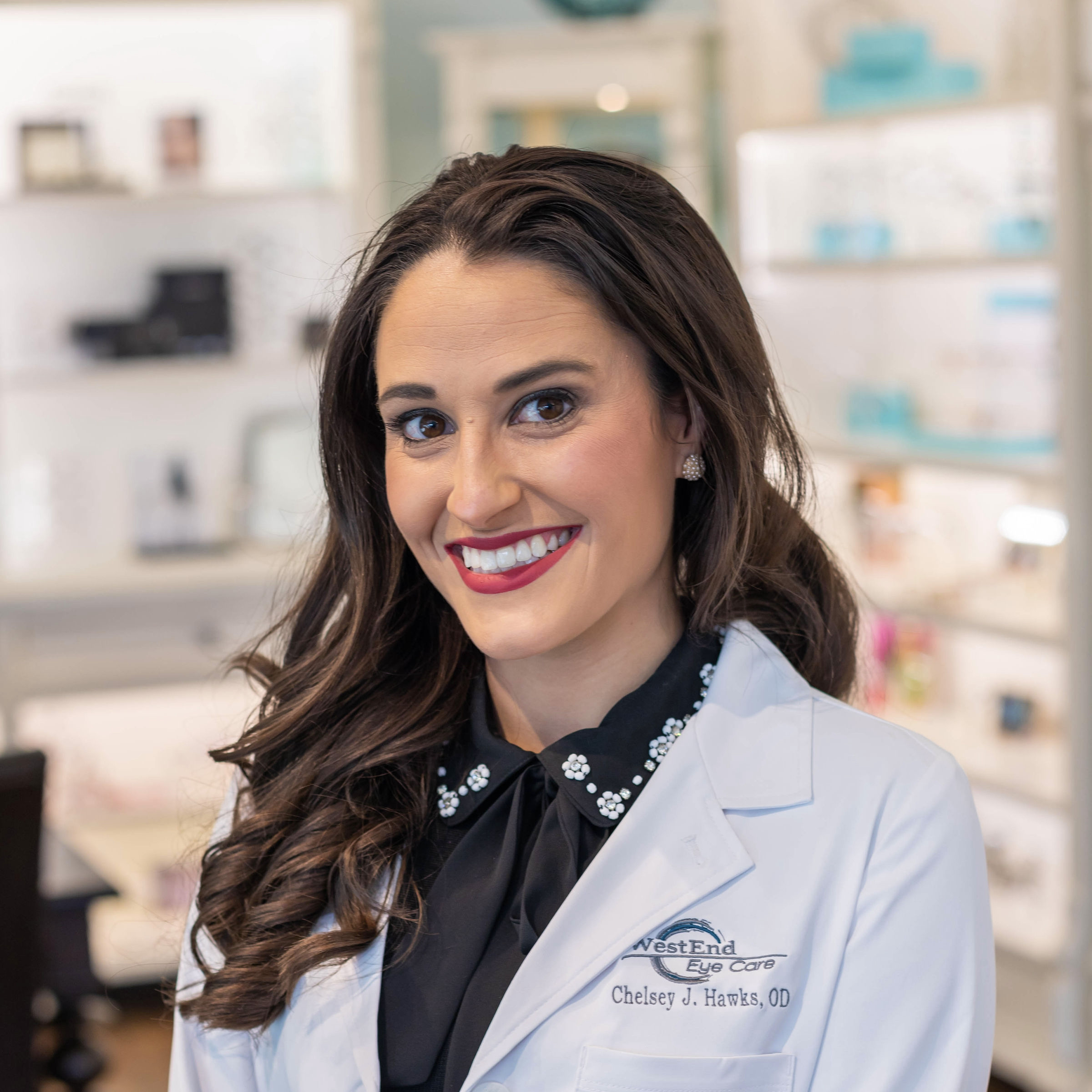 Dr. Chelsey Johnson Hawks
Optometrist
Dr. Hawks is originally from Madisonville, KY. She attended the University of Kentucky for her undergraduate education, where she was a member of the UK Cheerleading Squad.
She attended the University of Alabama at Birmingham for her Doctor of Optometry degree. In 2016, Dr. Hawks graduated from UAB and moved to Paducah to begin her professional career.
During her training, Dr. Hawks has found a special interest in managing moderate to severe dry eye syndrome. She manages a full-scope dry eye clinic at West End Eye Care, including advanced procedures like Lipiflow Thermal Pulsation. She also specializes in custom contact lenses called scleral contact lenses. Dr. Hawks also enjoys primary eye care and is accepting patients of all ages!
Dr. Hawks married her husband, Corbin, who is a local dentist, in 2018. In 2021, she welcomed her first child, Crosby. In her free time, she enjoys spending time with her family at the lake, playing with her dog, Sailor, and running. Dr. Hawks also owns and operates her own barre studio, The Barre: Paducah!
Specialties:
Tiffany
Optometric Technician
As a doctor's assistant, you will most likely be spending a few minutes with Tiffany before you see Dr. Montgomery. Tiffany is a Certified Paraoptometric (CPO) and specializes in taking detailed images and scans of your eye, performing visual field testing, and ensuring your chart is up-to-date and accurate. She also coordinates our Ortho-K program, ensuring that every patient receives the best care possible. Tiffany's caring and compassionate personality is what we value the most, as it helps us deliver exceptional eye care to our patients! If you ever have questions about your vision or your exam, Tiffany will spend time with you to help answer your questions.
Originally from Eddyville, Tiffany now lives in Paducah with her husband, Deke and two sons. In her free time she likes to spend time with family, read, and cheer on UK basketball.
Nisha, NCLE, ABO
Licensed Optician
 With over 25 years experience as a Kentucky State Licensed Optician, Nisha is here to assist you with any unique optical needs you may have. Nisha prides herself on helping you select the perfect frame that matches your personal style. She also is an expert in lens designs and coatings, helping you to maximize how clearly you can see through your new prescription. Her friendly demeanor and commitment to helping you look and see your best make her the perfect person to help you with your eyewear selection!
Nisha was born and raised in Southern Illinois and now resides in Kentucky with her husband and son. In her free time, she enjoys being outdoors and loves nature.
Shelby
Optometric Technician
As an optometric technician, Shelby will be assisting you at the start of your appointment. With over 4 years of experience, Shelby is dedicated to providing quality eye care. We truly value the way Shelby focuses on making your patient experience a personal one! Shelby provides excellent care by taking patient histories, capturing detailed images of the eye, and educating patients on their eye conditions. Most of all, she enjoys helping first time contact wearers feel confident in inserting and removing their lenses. Shelby is here to make sure all your questions and concerns are answered!
Shelby lives in Murray with her little girl, Ava. For fun, Shelby enjoys spending time with her daughter, kayaking, and hiking.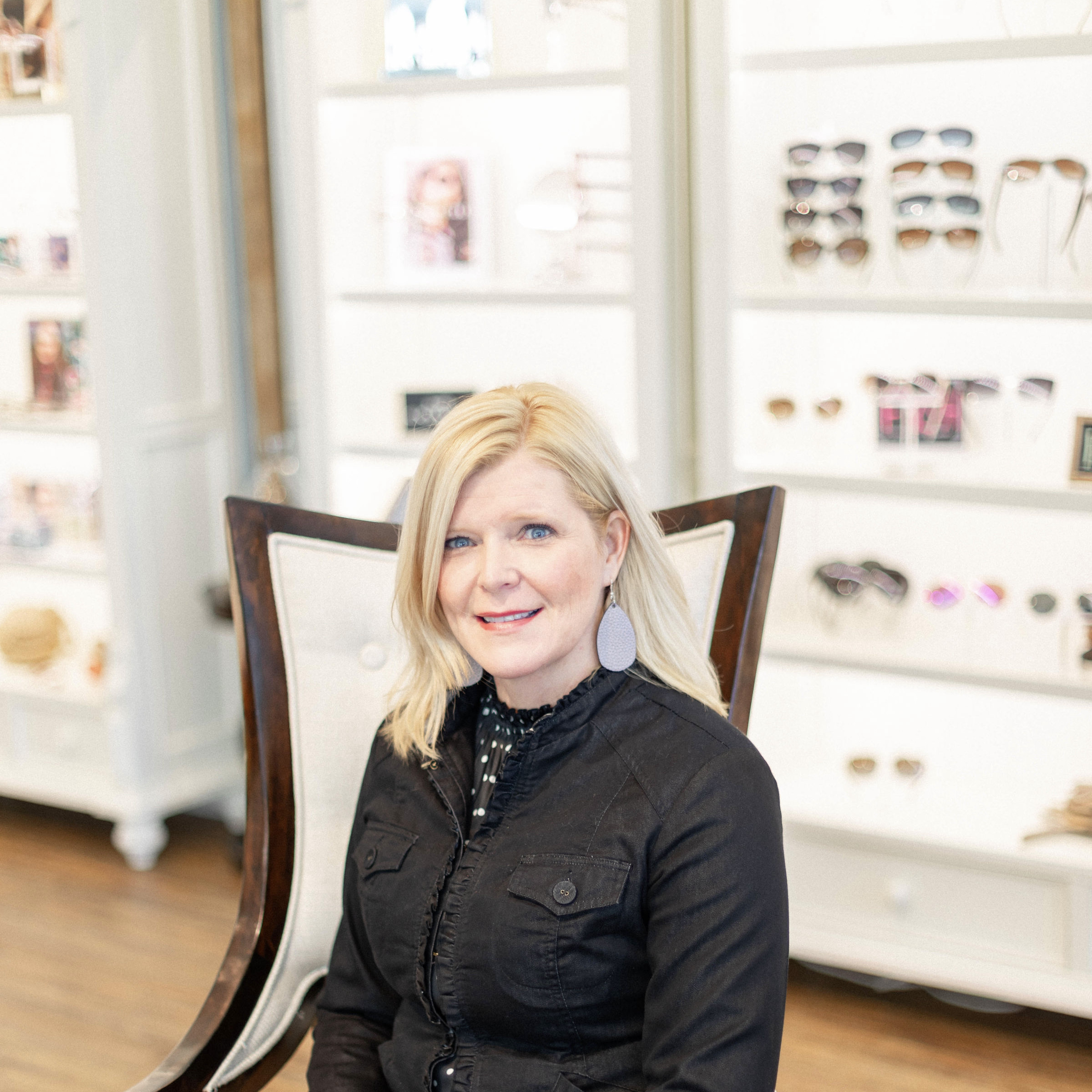 Allyson
Office Manager
As our office manager, Allyson is responsible for ensuring that you have an incredible experience each time you visit our office. She helps us improve and modify how we do things and always offers a fresh perspective on what changes we can make to serve our patients better. Although she often works behind the scenes, you may find her at checkout and assisting patients at the front desk. Allyson's friendly personality, leadership skills, and commitment to the patient experience make her the perfect fit as our office manager!
Allyson lives in Graves County with her husband, David. In her free time, she enjoys spending time with their three children and being outdoors as much as possible.